Most of our produce is sold using a Community Supported Agriculture ( CSA ) scheme which we have called My Earth Box Programme.
CSA creates a symbiotic relationship betweeen farmers and the community. By joining My Earth Box programme, your financial contribution and commitment gives us the stability and security to cover the costs of growing, and in return we give you a weekly share of our delicious seasonal organic produce.
Each season, we have a limited number of Earth Boxes for anyone who wishes to incorporate organic vegetables to their healthy diet.

Spring Intake
from week starting October 9th to week ending December 24th.
11 weeks = 11 boxes
Registration is now open and closes by Monday, October 2nd, or when all spots are filled.

My Earth Box members save up to 10% compared to our retail prices.

What to expect in the Spring Earth Box
Microgreens
Megagreens
Earth Warrior Baby Greens
Head Lettuce
Spinach
Mesclun

Rocket

Coriander



Parsley

Curly Kale
Cavolo Nero

Rainbow Chard

Celery
Carrots
Beetroot

Radishes






Parsnip

Swede

Spring Onion

Turnip

Broccolini

Red Cabbage

Pak Choi

Leek
Our Earth Boxes
Small Earth Box

$33 per week
Baby greens, cooking greens, herbs and seasonal vegetables

(Approx 6-8 veggie units)
A smaller version of our classic seasonal organic veggies box.

Medium Earth Box

$50 per week

Baby greens, cooking greens, herbs and seasonal vegetables
(Approx 10-12 veggie units)
A medium version of our classic seasonal organic veggies box.

Large Earth Box

$60 per week
Baby greens, cooking greens, herbs and seasonal vegetables

(Approx 14-16 veggie units)

A big box of seasonal organic veggies. Perfect for hungry families and keen cooks.

Salad Box

$22 per week

Selection of baby greens (salad mixes and microgreens)
Pick up or Delivery
Our mission is to let as many people as possible access organic vegetables.

We offer both pick up and delivery.

Pick up

From our Farm Shop in Rototuna ( free )
Every Tuesday 12-1pm and 2-5 pm. After hours collection available on request.

From River Ridge East Birth Centre in Hamilton East

( $5 fee )
Wednesday 11 am - 6pm

*Please note if Monday happens to be a public holiday, the pick up day will move to Wednesday instead.



Chilled delivery

Wednesday or Thursday delivery depending on your location.

Currently available for Hamilton metropolitan area only .


Delivery fee: from $15 per box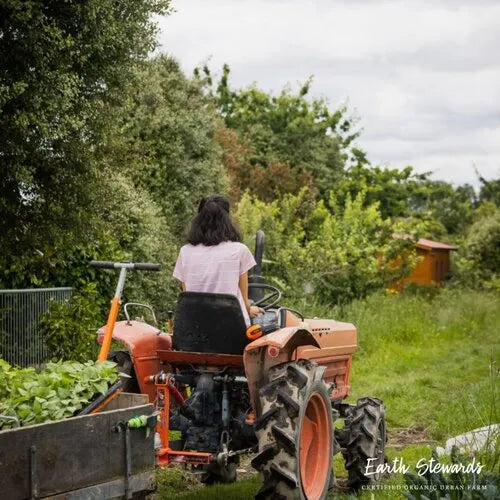 Not ready to commit?
By signing up to a CSA scheme like My Earth Box Programme, you are signing up to a share of the farm's harvest, and all the seasonal ups and downs that entails. When there is an abundance of something, you get more of it; when there is a shortage, you miss out.

By joining My Earth Box Programme, we prioritise you as a member and commit to growing high quality, fair-price produce for you. You are also supporting your local grower, helping us reduce food waste and minimising your food miles.

We understand 12 weeks might not be feasable for everyone. This is why we also offer a 4 week trial or a one-off purchase Earth Box .
Try it out
FAQ
When do I pay?

We have two paying options : upfront or weekly . If choosing weekly you will be charged on Wednesday for following week's Earth Box pick up / delivery. This is to give us enough time to deal with any payment issues that may arise.
Is this the same as a food box subscription?

It's very similar ( you get a box of veggies every week ) but there are a few key differences between our programme and a classic food box model.

When joining My Earth Box Programme you will be eating fresh handpicked organic vegetables. You will be supporting our mahi, reducing food waste and your food miles.

This model of food distribution creates a sustainable ecosystem for local farmers. They're able to count on the support of their local community as they go through the process of growing and harvesting food for you.
What will be in the box?

Here's the cool thing… it's different every week! We harvest our beautiful veggies once a week, then clean, portion and package them up for you. As with everything else Mother Nature does, it's different and unique all the time. We can tell you with some certainty which veggies will be available during which season, but the quantities and varieties will change as they become ripe or go to seed. 

You will be able to check out the contents of your Earth Box every week by selecting your Earth Box size on this link Earth Box contents by size
What happens if I want to skip a week

If you can't pick up your Earth Box or are planninng to go away during the season, we ask you to nominate a friend or family member to pick it up on your behalf. In the case of delivery, we ask you to give us an alternative address ( in the Hamiton / Auckland metropolitan area ). If not, we can arrange to have the box donated to a family in need.

Any changes must be notified by Sunday prior to pick up or delivery .
What if I forget to pick up my veges from the Farm shop?

We will do email reminders, and if  by the end of the Farm shop opening hours your veggie box hasn't been picked up , it will be left at a designated afterhours pick up point. If the veggie box is not collected by the following morning it will be taken back into our chiller. If we haven't heard from you, the veggie box will be donated.
What if I forget to pick up my veges at River Ridge East Birth Centre ?

We will do email reminders, but if that does not work and we haven't heard from you by pick up day 3.30 pm , the box will be donated.